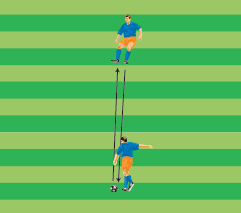 Organization
- four players in a square 8m x 8m, divided into two pairs.
- A passes to C, B passes to D, each player controls with one foot and returns with the other, always using the inside of the foot.

Coaching
- The players have to look up before playing the ball to the two balls clashing in the middle and have to think about the timing of teh pass.


Focus:
Improving passing
Phase:
Learning
Players:
4