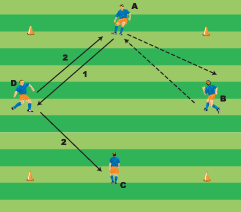 Organization
- Four players in a 8m x 8m square
- A passes to D and then moves to where B is standing, B moves to where A was standing.
- D must then play a diagonal pass, either to B (in A's old place) or to C, switching position with the other player in diagonal (so if he passes to C, he changes places with B).
- the player receiving always controls the ball first before playing the next pass.
- Once the basic rules are understood the exercise must be played at a fast pace.

Organization
- For each pass, one or two players could receive the ball so both have to keep alert with the right body shape.
- the pass can go either left or right so the passing player has to choose the correct foot to play the ball, using his right foot to play to his left and vice versa.
- the direction of the "go" movement is no longer automatic, it could be either left or right depending on where the ball has been played, so players are having to make quick decisions and movements.

Focus:
Improve passing
Phase:
Learning
Players:
4