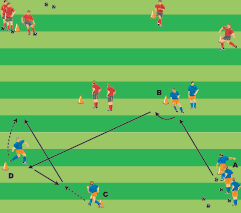 Organization
- The back (at cone A)passes to the midfielder who turns open and passes to the other back (cone D).
- the central defender (free player) joins in, initiates a give and go and the back takes the ball and joins on the other side.
- Execute on both sides.
- The central defender stays, the rets moves up one position.

Details
- Bedacuse we, as PSV, frequently have the flanks open (many opponents play with a controlling defender), we often do this exercise to teach the players how to free up the flanks.

Focus:
improve passing
Phase:
learning
Players:
14