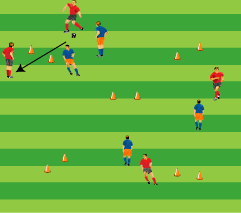 This game was invented by the then Parma coach Arrigo Sacchi in the 1980s. Sacchi was better known for his time as coach to AC Milan and also the Italian national team at the 1994 World Cup finals.
The game encourages lots of passing and moving and is very popular with both kids and adult players alike.

? Age Group U10s to adults
? Pitch sizes ? at the discretion of the coach
? Number of teams ? 2
? Team sizes 4-6 players
? Bibs optional
? Goals ? are two small traffic cones. You need one more goal than there are players for one team. So for 4v4 you have 5 goals (10 cones) and for 6v6 you have 7 goals (14 cones). You can add extra goals for the younger age groups. The goals should be about 2-3 feet apart (depending on age and ability) and should be distributed around the pitch.

To score goal, a player from one team has to pass the ball through the goal, where a player from his team controls the ball on the other side without any of the opposition touching it first. (You can score in either side of the goal.) You then have to score through a different goal before you can return to that one, unless the opposition get the ball.
Players need to get their heads up to see the full picture, pass accurately and have good movement off the ball. As in part one of this article it is also a game about vision.
With older players they can score goals by passing accurately through the cones at some distance. It is a very taxing game but also very rewarding.
A variation of this for younger children is to have just one cone for a goal and they simple need to knock this over with the ball to score. We have found this more suitable at the U8s and U9s level.
Focus:
To improve passing and moving
Phase:
Learning phase
Players:
8-12