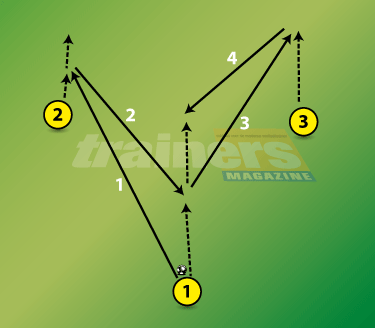 Organisation:
The players are divided into groups of three, forming a triangle. Player A, at the apex, passes to B, who kills it and passes it back to A; A then passes to C, who kills it and passes back to A. All the time the players are in movement. On the way out, A is moving forward, B and C backwards; on the way back it is the reverse.

Variation:
Players repeat the drill using the left foot to pass.

Coaching:
Well weighted pass along the ground. Players always aware of the position of team mates. Maintaining the right distance between team mates. Good balance.
Focus:
To improve passing skills
Phase:
Learning phase
Players:
3