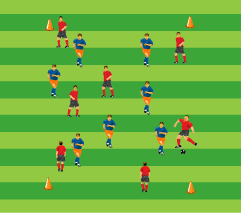 Organization:
- Two teams with different colors move in a space of 30m x 30m and play 7v7, 8v8 or 9v9
- Objective 1: player who receives the ball must always pass to a player of a different color. It is possible to give them other tasks, like one or two touch play, run after a pass. ? Objective 2: Wall pass with a player of the same color then pass to a player with another color with half-active pressure
Duration: 10-15 minutes
Intensity: Middle

Purpose:
Technical-tactical demand on receiving and passing while linking with the same color player, fast moving with changing of rhythm, wall pass training and giving the ball to the third player, fast reaction and communication between the players.
Focus:
To improve passing skills
Phase:
Learning Phase
Players:
14