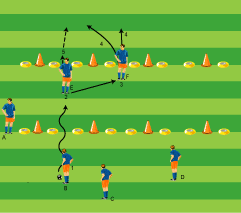 When player E has the ball, his team mate F, can choose to let him pass it back but now can also call for a pass. When F calls for a pass, he comes in short, player E turns and plays a hard early ball along the ground to his feet and then makes a run towards goal.

F has two options: he can turn and attack the goal or he can look to play a one-two with E and then attack the goal. The timing of the runs beyond the last line of poles must be
correct to avoid being caught offside. The move should be finished with a convincing strike on goal. All balls forward and backwards (into and out of the ?castle?) must pass through the ?gateways?.
Focus:
To improve passing skills
Phase:
Learning Phase
Players:
8