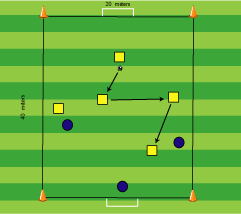 ?From the age of 16 they used to pool their scraps of money and send Puskas?s father, the trainer, down to his favourite wine bar. And while he was away they would practice for hour upon hour. Puskas volleyed the ball endlessly, and Kocsis would be there meeting each one with his head. On the rough training pitch beside a railway track Hungarian football was being revolutionised by two kids with great talent and the will to draw upon it.?:
Malcolm Allison on Puskas

?I am grateful to my father for all the coaching he did not give me.?:
Puskas

?A good player with the ball should have the vision to spot three options. Puskas always saw at least 5.?:

The English game got a rude awakening in 1953 when Puskas?s Hungary game to Wembley. England had never been beaten at the home of football by a team from overseas. The joke was that the last team to beat England were the Normans in 1066.
The Hungarians not only beat England, 6-3, (they also beat them in Hungary later that year 7-0), but also sent shock waves around the world.
Hungary were very different, they played in light boots that looked more like slippers. The formation they played had a deep-lying centre forward which completely flummoxed the English who did not know who should pick him up. The Hungarians were masters of the ball, and their movement and changing of positions was a fore runner for the Dutch Total Football of the 1970s.
Part of their preparation for defeating the English was to play against top Hungarian amateur teams. These games were different however as the Hungarians restricted themselves to just one touch. Ninety minutes of one touch football, was the perfect tool for a simple pass and move game that the Hungarians dominated teams with during the 50s.

Age Group U14s to adults
Pitch sizes 40 x 20? or at the discretion of the coach
Number of teams ? 2
Team sizes (one team of three and another team of 5)
Bibs optional
Goals ? standard 4 v 4 goals or 5 a side goals

You can play around with the numbers for this game but a good ratio is 3 to 5. The three players have as many touches as they like, while the five players are restricted to one touch only. If players are struggling with this go to two touch only.
The team of five have to move as soon as they have passed the ball into space.
Change the teams so everyone has a go at playing in the team restricted to one touch only.
Focus:
To improve combination play
Phase:
Learning phase
Players:
8