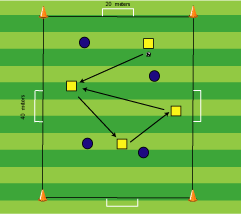 ?The elementary steps that define a good player are that he receives the ball, passes. And then runs.
Not the opposite. But increasingly frequently we see that when a player receives the ball, the first thing he does is run with it. Then when he looks up, it?s already too late. He is surrounded, and if he tries to go forward he runs into an opponent. And so the journalists have a justification for their view that nowadays there is no space on the field. Of course there isn?t; playing like that, the players close down their own space.:
Angel Cappa (an Argentine coach)

?Where I come from, Don Torcuato (a neighbourhood in the outskirts of Buenos Aires) we are lucky to have a lot of open spaces and fields. I spent my whole childhood playing football with my friends, from dawn to dusk, always in open spaces. Sometimes we?d stop for a bite to eat and then carry on. I still live there ? when I go to Buenos Aires ? and I still play football there with those same friends.?:
Juan Roman Riquelme

The words of Angel Cappa were confirmed in the last World Cup in Germany.
The Argentineans passed the ball beautifully. Caressing it with love, one and two touch passing, pass and move.
But they don?t just move anywhere. They have fantastic technique, but also a great insight into the game, creating angles with their runs.
I feel we do not practice simple possession play enough and the Direct Game, the brain child of Charles Hughes, technical director at the FA in the 1970s, who preached a direct style of play using as few passes as possible to get the ball forward. It had been wing commander Charles Reep, retired from the RAF and a statistician who had studied how goals were scored in hundreds of games. He discovered that 80% of goals scored were from three or less passes.
He went onto work with Graham Taylor at Watford in the 1970s that had great success using this theory.
But times change and one of the greatest ever goals was scored after a 24 pass move by Argentina against Serbia and Montenegro in a 2006 World Cup group match.

This game celebrates the beauty of good possession football.

Age Group U10s to adults
Pitch sizes 40 x 20 ? or at the discretion of the coach.
Number of teams ? 2
Team sizes ? 4
Bibs optional
Goals ? 1 metre wide (use traffic cones) placed 5 metres back from the pitch, centrally at each end and on the sides.

The teams play a possession game. To score a goal they must complete a set number of passes, e.g. 6-8 before they can score in any of the 4 small goals. This gives the team that does not possession a further chance to win the ball back. The team in possession has to show composure to score after the passing sequence. To help the team in possession you can add a neutral player.
Focus:
To improve combination play
Phase:
Learning phase
Players:
8