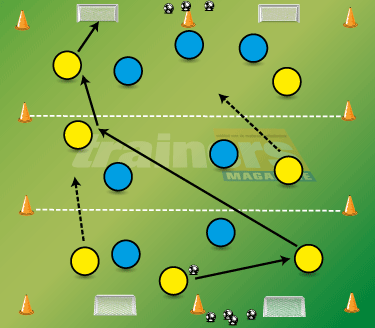 Organization
- Per area 2 against 2 with the objective to have players recognize the right moment to pass deep
- When the ball is passed to the next area, one player will likewise enter that area. This player is only allowed 1 touch in that area
- Whenever the ball is out of bounds, play resumes behind own goal
- Whenever a team scores they regain possession
- The goalkeeper always starts the build up
- The goalkeeper is allowed to support the players, but is only allowed 1 touch

Coaching
- Quick ball passing (circulation)
- Use inside of foot for short passes, instep for longer passes
- Recognize the moment at which to pass the ball deep, when your team is pressured. Before passing deep one must make sure there is enough support.
Focus:
Know what to do per position in order to realize good possession play
Phase:
Learning phase
Players:
14