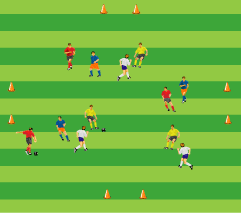 I was told about this game by John Allpress who heads up player development at the FA. He is a very progressive coach with excellent ideas and this game replicates the ?chaos? that we all took for granted in the school playground at lunch time that was actually a great way to learn. I am taken back to an age of torn trousers, scuffed shoes, dodgy haircuts, detention, the cane, gobstoppers, catapults and jumpers for goal posts.
The great thing about that era, when street football was king, was that it was the children?s game. The children made up the rules, designated the pitch size, picked the teams and refereed the game. The kids had to use their imagination and make all the decisions. It was the informality of the game and the various obstacles a child had to overcome while playing, such as a number of games being played at once in the playground that bred generations of footballers who really understood the game. The game is in fact two games. One game is 4 v 4 playing from North to South, the other game plays across that pitch playing East to West and is also 4 v 4.

? Age Group U8s to adult
? Pitch sizes ? at the discretion of the coach
? Number of teams - 4
? Team sizes 4-6 players
? Bibs optional
? Goals ? 5 a side goals (But you can use a variety and have say big goals, north to south and small goals, east to west.)

The main aim of this game is to see how players adapt to a chaotic situation and problem solving. This can be made even harder by wearing no bibs. The players have to get their heads up in this game to identify who is on their team, who the opposition is, which ball is theirs and who is playing in the other game.
I played this two nights ago with a mixed group of U8s and U9s and they adapted to it straight away. They did not make any comments about why the other teams were playing across them, they just played. I don?t do any coaching I just observe and see how the kids solve the many problems we have given them. At the end of the game I just ask them questions. Kids are very resilient and will just about cope with anything you throw at them. Their problem solving skills are probably better than you think, so this is perfect set up to judge how they are coping with these issues. As coaches we need to let go and let the kids solve their own problems before we interfere and do their thinking for them.
Focus:
To improve coaching between the players
Phase:
Learning Phase
Players:
6-10