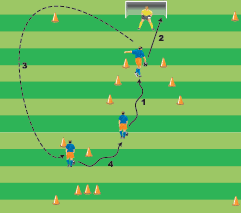 Organization
- 7x12 meters.
- Try to score from the first penalty spot. Afterwards you can change the distance to the goal.
- Example: Walk with the ball to the first marker. Place the ball and shoot on goal. If you score a goal, your second attempt will be from the second marker.
- The striker has to place the ball on the spot with his foot; the other children are outside the box (behind a cone)
- If you fail twice the next attempt means one marker closer to the goal.
- You collect your own ball and you line up behind the others who are waiting for their attempt.
- When the goalkeeper catches a ball, he will roll it back to the next striker.
- Every goal is important which means that you put up one of the count cones.
- After three goals you change your goalkeeper.



Focus:
Improve shooting
Phase:
Learning
Players:
4-12