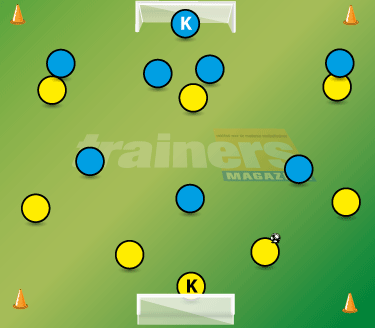 Organization
- Scrimmage 7 against 7 plus two goalies

Coaching
- The moment the ball is passed to the right wingback, pressure should be executed by the left winger
- The striker and right winger will support the left winger
- The defender will have to give close cover, especially on the left side
- The right wingback can be a little more lenient

Details
- Communication is essential.
- When the ball is out of bounds, or a goal is scored, always start game play with the goalie. This creates a lot of learning opportunities.

Focus:
Improve field positioning
Phase:
Game phase
Players:
16