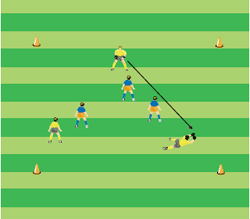 Organization
- In this exercise you play 2:2 or 3:3.
- Both teams have to ensure the ball will be played around 10 times without the ball touching the ground

Progression
- Modify size of playing area.
- Modify rules, for example; only throw underhand, catch above the head, playing by means of a drop kick or volley, etc..
- Frequency of playing the ball around.


Focus:
improve catching and kicking
Phase:
Learning
Players:
6