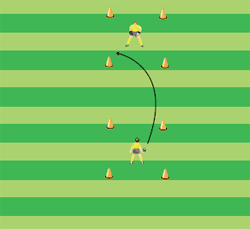 organization
- You start this game with 1 against 1.
- Try to score, by means of of throwing the ball, underhanded into the other area.
- You receive a point when the ball bounces in the other area. When the goalie catches the ball directly after the bounce the point does not count.
- The place where the ball is processed is also the place where the game will continue from.

Progression
- Make the areas and the distance between the areas bigger.
- open with a drop kick, volley, one hand throws (sideways), etc.
- Can also be played 2 against 2.


Focus:
improve catching
Phase:
Learning
Players:
2