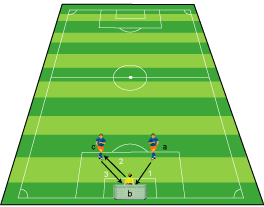 Organization:
A simple version of the above mentioned method which could even be used as a warm up exercise.
Goalplayer ?A? plays the ball to goalplayer ?B? by means of a ground pass
Goalplayer ?B? passes the ball immediately with one touch to goalplayer ?C?. After control, goalplayer ?C? shoots the ball into the hands of goalplayer ?B? (medium high and medium hard. Goalplayer ?B? will catch the ball and plays it with an underarm throw to goalplayer ?c?
Same thing from other side.
It is very important that the elements of this simple exercise (passing, positioning, receiving, shooting, underarm throw, shot stopping) have already been practised at the beginning of the training.

Variation:
Goalplayer ?B? receives the ball from ?A?. With his second touch ?B? passes the ball to ?C?. ?C? controls the ball and shoots it low to the right hand of ?B? who dives to save. Same thing from the other side, only goalplayer ?A? will now shoot to the left hand of ?B? who dives to save

Note:
During the exercise the goalplayers are changing positions in order to practise the different technical aspects of all three positions.
Focus:
To improve the basic goalkeeping skills
Phase:
Learning phase
Players:
3