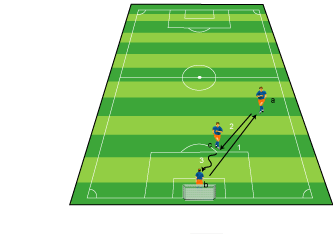 Organization:
Goalplayer ?B? brings the ball into play with an accurate goal kick (5m line). ?A? controls the ball and passes to ?C? with a hard pass. ?C? receives the ball while turning in the direction of the goal and tries to score against goalplayer ?B? in a one to one situation. Goalplayer ?C? has a limited time of 3-4 seconds to score in order to simulate a match situation. In this exercise the goalplayers in the 3 different positions are forced to carry out several duties:
?B?
Accurate and easy to receive goal kick
Quick positioning
Anticipation
Solving 1v1 situations (being able to stay on feet)
?C?
Controlling the ball during a movement
Accurate shot on goal within time limit
?A?
Controlling high ball (thigh, chest, inside of the foot).
30m low or medium-high pass (with the full instep of the foot).

In this exercise goalplayer ?C? could evaluate which position of goalplayer ?B? will decrease his chances to score. In a real match situation he can use this experience to anticipate the behaviour of the strikers. After repeating the exercise 5-6 times the goalplayers are changing positions.

?The exercises based on this method have a very large variability and this way it is never boring. We have to make sure that those goalplayers who are acting as field players during the exercise must understand that by practising these technical elements they will improve their foot play, anticipation, evaluation and self confidence during the match.?
Focus:
To improve basic skills
Phase:
Learning phase
Players:
3